Home Page – Toys
Toys That Will Capture Your Child's Best Momemts…

At toptoystoday.com, you will get well-researched toys for your children. We primarily focus on the quality, the brand (like Disney, Mattel, Hasbro), and how safe are these toys for children of different ages.

We focus on special toys that carry great benefits and values for the early development of children. The toys we select are imaginative, creative, and fun. You will find the best range of 2021 toys here. On top of that, some toys from past years are also available on our site because of their popularity.
Our collection of Toys include creative toys for boys, girls, and toddlers. We have a team of experts to do a comprehensive research before we select and build our Toy list on specific categories such as Educational, Lego & Construction, Tech  toys, Fun toys, and more… Feel free to surf through this year's new releases in "Top Toys 2021" and get your latest favorite toy.
Toy Buying Guide and Helpful Tips
Children may have lots of fun playing with different toys. For this reason, the market is flooded with plenty of toys. Parents are responsible for selecting the best toys for children. Before buying toys, parents should consider the safety of children.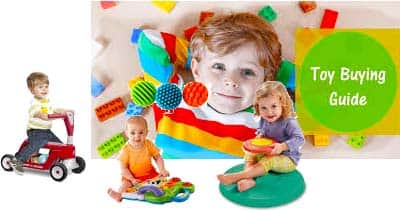 Here is a guide that will help parents to choose the best toys for their kids. These guidelines may offer some help because you have to consider the interest of your child.
Understand the Importance of Games and Toys
Parents buy toys to keep their children and toddlers busy. They can play games and learn new things about the world. New parents often stock their nurseries with plenty of toys, such as bright toys, animal toys, soft and hard toys, small and big toys, etc.
Just like storybooks, toys play an essential role in fostering the learning and growth of children. In early age, toys are essential for the development of toddlers and infants. They can acquire physical skills, language skills, cognitive thinking, motor skills, social skills, and emotional development.
A child learns to see after taking birth. He/she will learn to handle complicated visual tasks. Remember, games, toys, and playtime activities can stimulate visual development. In numerous cases, a child can miss an essential step in the development of vision.
For this reason, comprehensive optometric care is necessary to start for your six months old child. Optometry doctors diagnose possible vision issues in the early stages to avoid interference with the learning ability and development of a child. Your doctor may prescribe vision therapy or glasses or ask you to use special toys at home for your child.
Develop Language Skills
Children usually learn to communicate at an early age. Everyone tries to make baby speak their names. In these efforts, special toys will help your children. With musical toys, you can help your child to develop language skills and understand sounds.
Fine Motor Skills
Some toys allow children to flex their muscles to move, push, or hold the toy. These are useful to nurture physical or motor skills in children. Beautiful rattles are the best examples because these allow your child to learn to shake and hold. Make sure to choose bright games and toys with attractive images.
Evaluate Cognitive Thinking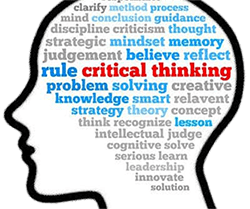 With rattles and several other toys, children can develop their cognitive thinking. You will find different Baby Toys to foster cognitive thinking in kids. Different types of pules, games, and toys encourage children to put things from a particular perspective. These allow children to develop the association with sizes, shapes, numbers, and colors.
Spark Creativity of Children
With arts and crafts toys, you can inspire children to show their creative side. These toys allow children to use hands and tools during play. Children will enjoy making beautiful models with playdough and cutting papers.
Parents can encourage children to use their creativity with Construction Toys. Make sure to choose the best toys as per the interest of your child. Remember, these things will be helpful for them in the future. When we pick our toy list we take into consideration all these factors – check out the New Toys 2021.
Choose Toys for Children by Stage and Age
Toys must match the emerging abilities and development stages of children. Suitable and safe play materials are easily available at home. You can help your child to use a plastic bottle, lids, plastic bowls, cardboard boxes, and caps of bottles in different ways.
For your assistance, here is a list that will help you to choose safe and creative toys for your child as per your age.
Young Infants: 6 Months or Older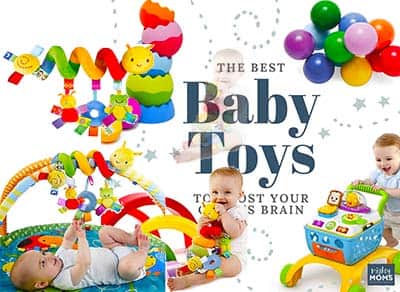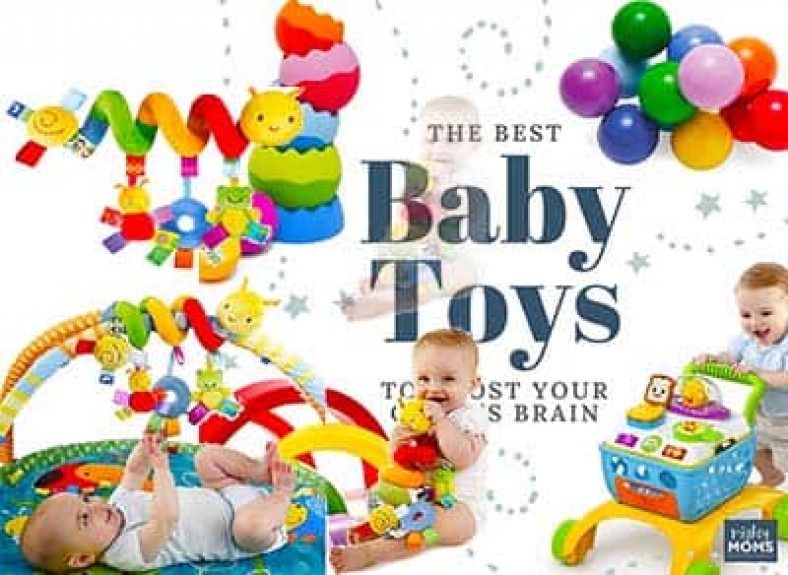 Young infants are interested in following people with their eyes. Bright colors and faces can grab their attention. Children may try to use their hands, head, and feet, such as turn heads in the direction of the sound and put different things in mount. For young infants, you can choose these toys:
Squeeze toys, rattles, teething toys, large rings, soft dolls, board and vinyl books, and textured balls.
Books with poems and rhymes because they like to listen. Feel free to record simple songs and lullabies.
Hang pictures of family members and unbreakable mirrors so that children can look at them.
Older Infants: 7 – 12 Months
Older infants become movers, and they like to roll over, sit, creep, bounce, and stand and pull themselves up. They can recognize some common words and their name. Moreover, they start recognizing body parts, put things in containers, and search hidden objects. Here are some suitable toys for old babies:
Puppets, baby dolls, water toys, and wood and plastic vehicles.
Large beads, plastic bowls, nesting toys, and balls to take out and drop things.
Large wooden cubes and soft blocks for building.
Toys to pull and push, soft, low things for crawling and large balls to engage their muscles.
1-Year Old Children
For a 1-year old kid, several Fun and Joke Toys are available (only if age appropriate). They can steadily walk and climb stairs. Moreover, they like to say words, enjoy stories, and play with other children. No doubt, a 1-year old child loves to experiment, but adults must understand their safety needs. Here are some suitable options for them:
Recordings with rhymes, songs, pictures, and simple stories.
Board books containing photographs and illustrations of real items.
Washable, non-toxic markers, large paper, and crayons to create different things.
Doll beds, dolls, toy phones, dress-up accessories, strollers and baby carriages, stuffed toys, puppets, wood and realistic plastic vehicles, and plastic animals.
Wood blocks and cardboard.
Large pegboards, puzzles, toys with different parts, and small and large balls.
Toys for Toddlers: 2-Year Old
Toddler Toys help them to learn different things. Remember, at the age of 2 years, toddlers will learn about the danger and other things. They are interested in physical testing, such as climbing, hanging rough-and-tumble play, rolling, and jumping.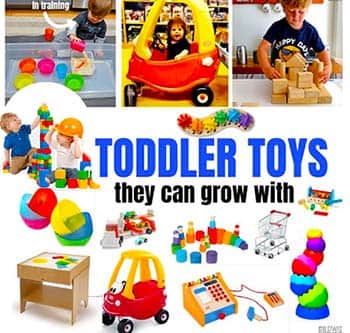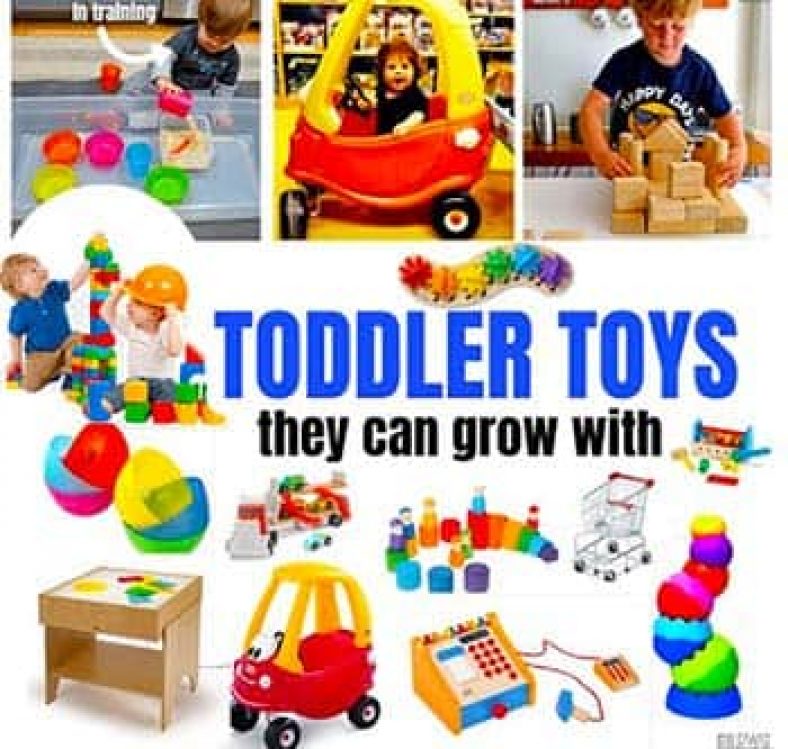 At this age, they will get excellent control of their fingers and hands. Moreover, they try to do different things with tiny objects. Here are some good toys for toddlers:
Word puzzle objects to sort by color, smell, shape, and size, objects with hooks, snaps, buckles, buttons, and blocks to snap together. It will help them to polish their problem-solving skills.
Things to build and pretend, such as blocks, durable and small transportation toys, child-sized furniture (chairs, kitchen sets), construction toys, dolls with different accessories, dress-up clothes, water, and sand play toys.
You can buy large washable, non-toxic things, such as washable markers, crayons, fingerpaint, large paintbrushes, large paper construction paper, scissors without sharp tips (toddler-sized), large chalk, rhythm instruments, and chalkboard.
Photo books with lots of details for young children.
DVD and CD players with music (cassette recorders and phonograph players).
Things to use small and large muscles, small and large balls for throwing and kicking, ride-on equipment, low climbers, tunnels, hammering, and pounding toys.
Kindergarteners and Preschoolers (3 to 6 Years Olds)
Kindergartners and preschoolers ask several questions. They have a long attention span as compared to toddlers. At this age, they prefer to experiment with different things and emerge physical skills.
They are ready to share toys with other children. Here are some suitable toys for 3 – 6 years old kids:
Puzzles with 12 – 20 or even more pieces, collections, and small objects of different colors, quantity, smell, shape, height, and several other features, blocks to snap together, plastic bowls, caps, lids, shells, keys, colored blocks, etc. These things may help them to improve their problem-solving skills.
Several blocks are available to build complicated structures, construction sets, transportation toys, dress-up clothes, child-sized furniture, dolls, puppets, water, and sand play toys.
For their creativity, you will need markers, crayons, fingerpaint, paintbrushes, and paper for painting and drawing, preschooler sized scissors, construction paper, small and large chalk, chalkboard, playdough and modeling clay, cloths scraps, paper, paste, modeling tools, and musical instruments. They may like to play tambourines, maracas, and xylophones.
Photo books with lots of words and pictures.
DVD and CD players with music.
Small balls, tall climber, tunnels, tricycles, wheelbarrows, wagons, plastic balls and bats, targets, bowling pins, and workbench along with saw, nails, hammer, and vise.
You can download some interactive programs if you can afford a computer for your child. Remember, children can understand the graphics, spoken instruction, and software controls. They can control the path and pace of software. These things allow children to explore different concepts.
School Age: 6 to 12 Years
Peers can play an essential role in the life of school-agers. Old children can understand the negotiation and cooperation of social skills. After gaining some academic skills, they will be able to indulge in creative and intellectual experiences. Here are some great options for these children:

Board games for teaching simple rules and improve concepts of reading and math funnily.
Craft materials, including beads, collage, clay, paint, stamps, washable ink pads, scissors, and markers, to support creative expression.
Complicated construction accessories and set enable children to develop creativity and motor skills.
Fun and fitness materials, such as beanbags, jump ropes, and balls, can increase the confidence of children. They can develop gross and fine motor skills.
Fiction and nonfiction books to reinforce reading habits and increase their knowledge about cultures and people.
Useful Guidelines to Pick Toys for Children
Children are tiny explorers, and they want to do lots of things. They try to explore more and toys can Educational Toys can help them. Make sure to choose the best toys for your children to develop lots of new skills.
Choosing toys for your child may be an overwhelming task. You may find a huge variety of toys in the market. In this situation, parents think about how to pick the best toy for their child. It is crucial to consider the interest of your child before selecting an engaging toy.
Here are some ideas to pick the best toys for the overall development of social-emotional, language, physical, and cognitive skills.
Buy Multipurpose Toys for Children
You will need toys that encourage pretend play and creativity in children. For this reason, you have to pick open-ended toys. It must help your child to play different games. Chunky plastic and wooden blocks may be great for making roads, bridges, zoos, spaceships, etc.
Try to buy toys to spark the imagination of your child. It proves helpful for them to develop logical thinking and problem-solving skills. Some great examples are water and sand play, cups and nesting blocks, interlocking blocks, and blocks.
Toys that Grow with Children
Children are explorers and always want new things. For this reason, they may not give attention to a toy for more than two days. To avoid this situation, you can buy toys that come with developmental stages.
Your child's favorite stuffed animal or doll may be a long-term friend for your child. He/she may prepare a house with a shoebox or makeup stories. Some excellent examples are dollhouses, action figures, plastic animals, dump trucks and trains, dolls, and stuffed animals.
Encourage Problem-solving and Exploration
Games can offer new skills to children; therefore, you have to Fun & Prank Toys and educational toys wisely. With the help of toys, children may be able to learn different things. They can build their cognitive and logical skills.
These things can make them the best problem solvers. You can help your child to develop spatial relation skills, fine motor skills, and hand-eye coordination. Make sure to buy toys that allow them to use their fingers and other muscles in their hands. Some suitable examples are Playdough, shape-sorters, puzzles, blocks, crayons, and clay.
Let them Play with Real Stuff
Children try to figure out different objects in their world. They are interested in light switches and remotes. Moreover, they want to play with real stuff, such as a cell phone. Kids want to act like you and try to imitate you.
You can offer some real things to your child to help them with their problem-solving skills. For this reason, you can buy toy keys, toy food and dishes, dress-up clothes, child-size brooms, dustpans, brushes, mops, and musical instruments.
Keep Your Children Active
Toddlers can do different types of physical skills. Try to arrange games and toys that can make them active. Moreover, you have to become their appreciative audience. Appreciate them for their achievements.
You can arrange three-wheeled scooters, balls, basketball hoop, wagon, gardening tools, tricycles, pull-toys, and moving boxes. With boxes, they will make tunnels for crawling. Make sure to buy protective gear for your child.
Consider Fun and Safety of Children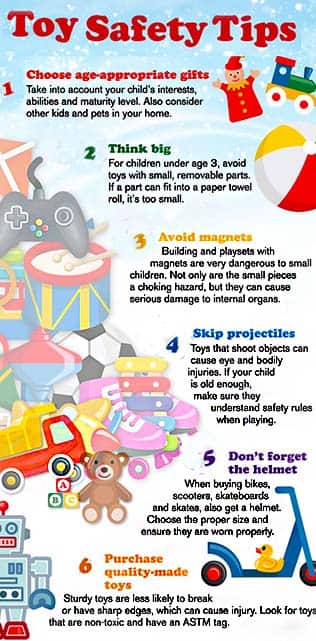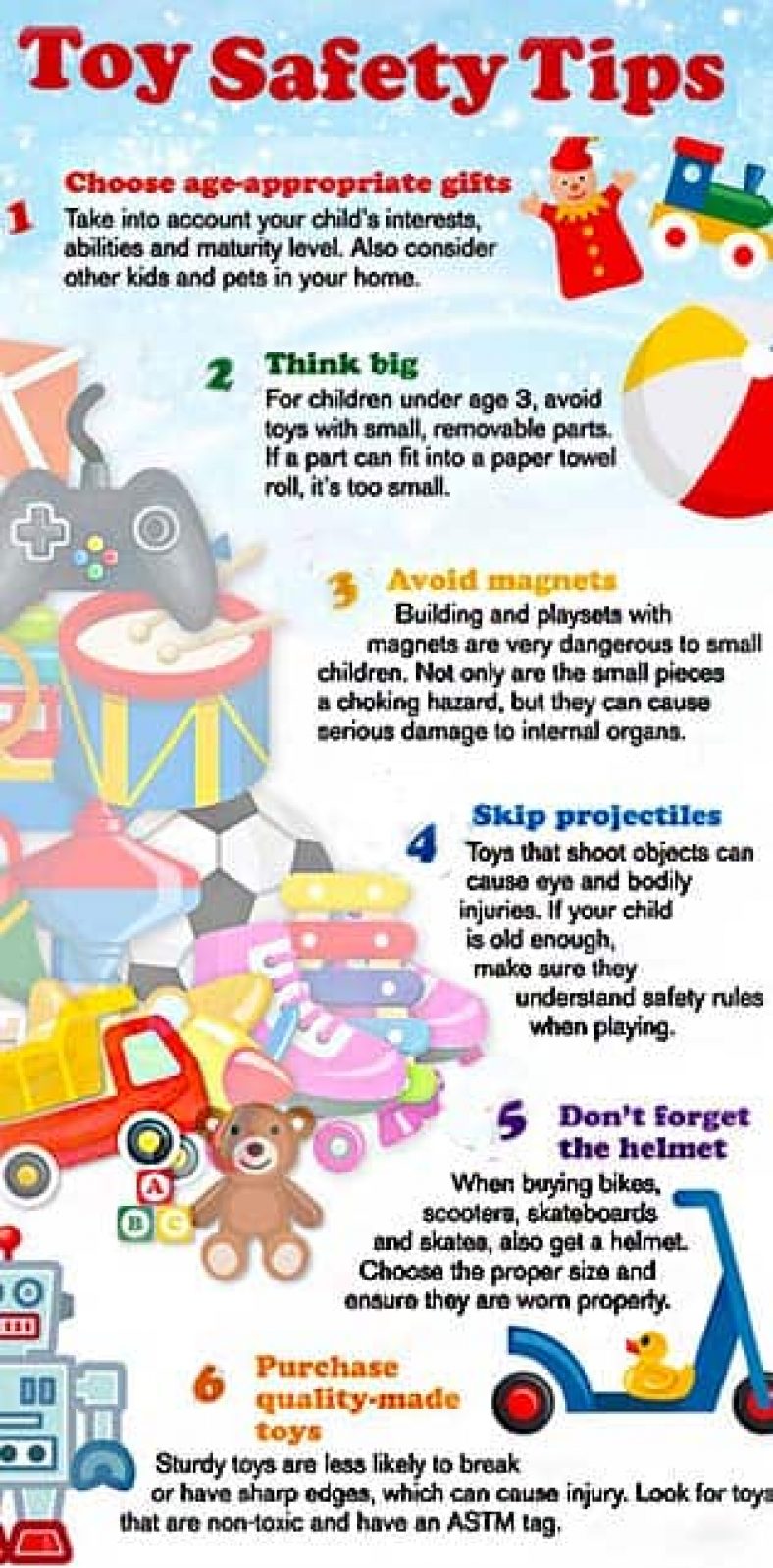 With the help of the right toys, you can help your child to develop coordination and imagination. Moreover, the wrong toys may be harmful to them. Remember, toy-related injuries are common in children. These injuries may send them to emergency rooms.
Sometimes, parents give toys designed for old children to their young children. It can increase the chances of injuries. Some toy manufactures may not follow safety guidelines while preparing toys for kids. In this situation, parents find it challenging to buy safe toys. Here are some guidelines:
Before purchasing toys, you have to inspect small parts. Remember, small parts are not suitable for small children and toddlers. They can put everything in their mouth and increase the danger of choking.
Choose toys suitable for your child's age, skills, interest level, and abilities. Some advanced toys may pose safety hazards for children. For instance, we mention the age limit with our Tech Toys and all other products.
Check for some letters, such as "ASTM". It shows that a product can meet national standards of safety from the American Society for materials and testing. Carefully read warning tags before purchasing toys. Moreover, check the website of consumer product safety for recall alerts and recalled toys.
It is important to check the noise levels of toys before buying them. Avoid purchasing too noisy toys because these can be the reason for ear injuries.
Make sure to buy well-made stuffed toys. The noses, eyes, and small parts of animals must be well-made and securely fastened. It will help you to decrease the danger of choking.
Avoid purchasing hobby kits, including chemistry sets for children 2 to 11 years of age. Keep an eye if older children are playing with these toys.
You should not buy shooting toys, such as high-powered water guns and slingshots. Children can injure other people with these toys. Remember, BB guns can't be toys for your child.
Evaluate each toy for its solid construction. These must be designed with long-lasting material without points and sharp edges. In this way, you can increase the chance to endure impacts.
Carefully read instructions and follow recommended age levels along with safety instructions. Remember, the age limit is essential for safety and evolving reasons.
Your selected toy must clearly demonstrate the uses of toys.
Keep toys of old children away from young kids.
Carefully examine how children are playing with toys. You should not let them play with toys and games in dangerous methods.
Immediately throw away wrappings. Plastic bags and sharp staples may be dangerous and become the reason for injuries.
Prepare a list of safety rules for your younger adults. Remind them safety rules when they are playing with other kids.
Toy Categories
You will find the best toys for younger and older children. Some special and general categories of toys of toptoystoday.com are as under:
Common Questions on Choosing Toys for Children
Q: How music, lights, and sound impact children?
The maximum toys of toddlers are blazed with music, lights, levers, buttons, etc. These toys are developmental toys with different functions. Sometimes, these buttons may impact children oppositely.
An active toy can make a child lazy. Children will prefer to sit and enjoy the performance of toys. These toys may increase the confusion of children to learn cause-and-effect. If a toy starts randomly, the child will not learn anything.
Do toys have multi-sensory appeal?
Movement, sounds and lights may be helpful to engage the senses of your child. Moreover, contrasting colors, textures, and scents are helpful for your child. These things can make a toy interactive.
Can a toy make a baby smarter as per the advertisements and claims on the packaging?
Carefully purchase a toy instead of believing blindly on the claims of the manufacturer. Several products with unbelievable claims may not increase the intelligence of your child. Remember, safe household items may be the best learning tool.
You can choose plastic bowls for dumping and filling, pillows for piling and climbing, and old clothes to dress-up. These may be the best learning tools to allow your children to use their bodies and mind.
Construction Toys for Girls And Boys
Model making is suitable for children because it involves several construction based actions. Construction toys support the cognitive, physical, and social development of children. Kids who make and build models develop strong coordination of hands and eyes and excellent motor skills.
Construction games enable children to manipulate different objects as per their needs. They can make materials purposeful. As parents, you should encourage children to explore and investigate a problem. Avoid interfering with their choices.
With the help of construction games, children can achieve maximum satisfaction and sense of achievement. Moreover, it will increase their self-confidence and creativity.
Blocks and Lego
Blocks and Lego allow your children to build towers. Children may pretend to build something beautiful and simple, such as a garage for a car and a house. Some experienced players may pretend some blocks as beds for hospitals or garbage for trucks. They can create elaborate scenes from Lego and block.
Some children can create a castle or spaceship. Let them think out of the box because they have limitless options. They can create different things together.
Jokes, Fun and Prank Toys
A toy or prop for a practical joke can increase the confusion of children. Remember, these toys can be harmless for children. You may find duplicates of terrifying or disgusting objects, including spilled nail paint or vomit.
Remember, these are created as harmless items to malfunction humorously in a way to confuse the target of pranks. These are available in specialty or magic shops. We offer special toys for fun and prank. You can buy suitable toys for your child.
Allow your kids to do harmless pranks and practical jokes. If you want something for harmless pranks and practical jokes, make sure to buy something special. It will be good to supervise your children for safe jokes.
Harmless pranks and kids' practical jokes are for fun. The person involved in fun must be able to laugh. Avoid harmful pranks and jokes. Before planning a joke, you have to understand the feelings of another person. You have to understand the meaning of funny and mean jokes.
Keep your pranks and jokes harmless when planning for them. You have to understand the feelings of the person you want to pull the prank on. Try to choose a joke that everyone must find funny.
Star Wars Toys
Star wars were started in 1977 and changed the outlook of science fiction. Remember, this movie has transformed the toy industry. Children always love to have a toy of their favorite characters.
These toys prove helpful in improving the imagination of children. Star war toys also appeal to adults. Star Wars introduced people to villains, heroes, space ships, and robots. These toys transform both the movie and the toy industry.
Tech Toys
Nowadays, high tech toys are becoming famous over traditional toys. It is important to embrace the latest technology. With tech toys, you can increase educational playtime for students. No doubt, the demands of electronic toys are increasing.
Technology toys increase the learning potentials of children. These toys promote learning because children can physically play with each other. Active games allow children to exercise. Moreover, these toys enhance socialization and communication skills.
These toys are suitable to satisfy big imaginations of kids. We offer hot wheels, kinderbot, and several other exciting games. Several electronic toys encourage children, increase their activity level and social skills. There are several electronic toys to help children with emotional development and anger management problems.
Drone & Quadcopters
We offer the best drone and quadcopters. These are available at different prices. If you are a beginner, you can buy a cheap drone or quadcopter. Here are some essential elements to buy drone and quadcopter:
Camera quality
Convenient of flying
Charging time and battery life
Flight range
Reliability and robustness
Before purchasing a drone, you have to consider the price of these devices. Make sure to purchase a cheap drone as per your budget. Check out the features of the drone before spending money. The quality of the camera is an important consideration. The higher resolution will be better, such as 1280 x 720.
Several drone cameras come with FPV (First Person View) to transmit live videos. Remember, a drone with a high-quality camera can be expensive. Charging time and battery life may vary. Typical time to fly a drone is almost 8 minutes.
Before purchasing a drone, you have to check its flight range. Remember, you have to keep a drone within 30 to 50 meters. Reliability and robustness are some other factors to consider before purchasing a drone.
Top Toys Today offers the best toys for children of different ages. You can get special toys for boys, girls, and toddlers. Moreover, educational, construction and tech toys are also available to educate your children.
Toys are best friends to a kid. Start their beautiful journey with this year's Best Toys 2021